Karat Caviar delivers the rare and coveted flavors of wild-harvested Osetra by creating farming conditions that closely mimic the qualities of the Caspian Sea, the natural habitat of the sturgeon. We have a range of caviar available, from deep black to light golden in color. It has a pleasingly firm texture and the classic " nutty" clean flavor, distinctive of the Osetra sturgeon.
Karat Caviar is available in three delicious varieties, each one a promise of unlimited pleasure and an expression of Karat's highest quality standards.
Baroque
Featuring large grain pearls, this exquisite variety is distinctive for its clear and glossy eggs, which have a dark blonde to golden shimmer. Karat Caviar Baroque has a round and full texture with a buttery and silky sweet nutty flavor. Limited availability.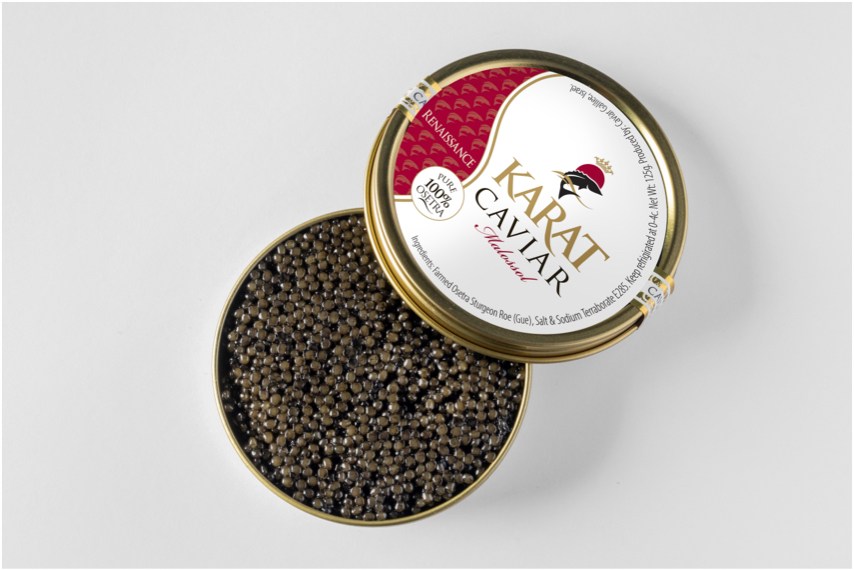 Renaissance
The Renaissance variety, with clear, glossy medium to large grain pearls, has an amber green to brown color and a warm texture. This rare caviar has a rich, nutty, melt-in-your mouth flavor.
Gothic
Medium to large grain pearls with a traditional deep dark appearance. A mellow nutty flavor that lingers on the palate, just as exceptional caviar should.